Handmade Crystal Jewelry In Our Designs
There is something special about the care that goes into making things by hand. There is especially the case for beautiful jewelry. For the designer, the act represents the contribution of something new to the world, and for the wearer, the end of the process produces a thing of beauty that will serve as an expression of your sense of style.
So, what will make the next piece of handmade crystal jewelry your favorite?
Will it be the event that brings it into your life? Will it be the person from whom it will come? Or will it be the way it makes people take notice? The answer is obviously any combination of these factors and one other. It will be that piece of jewelry you pick up and can't seem to put back down. Not necessarily based on an occasion or an individual alone, but about the craftsmanship (or craftswomanship) that put it together. In short, it will be about its quality. Something that lasts for generations and can be passed down, loved, admired, and cherished. Just think about that necklace or bracelet that you bought last year—that go-to piece that completes your look as you put the finishing touches to your ensemble for that special party or social occasion where you knew everyone wanted to look their absolute best – including you.
Quality
It's also that piece you reach for as often as your car keys or handbag. It's always there for you. Importantly, the quality is there, too, from its meticulously strung crystals and pearls to the way its jewels complement each other, to the way it rests against your skin. And because we made it with such attention to detail, you know it will last, almost becoming a friend on which you can rely on every occasion you slip it on. In fact, you sometimes even take it out just to have a look, amazed by the beauty that exists today, unchanged and every bit as striking as the moment you first held it in your hand. Its reflection sparkles with its harmony of color and the comfort of an artistic design that's made to wear. All of these echoes the one major quality of fine jewelry — quality itself.
The Art of Design
It begins with the perfect elements and culminates in a compelling design. For instance, when we look at pearls at Her Majesty's Jewels, we scrutinize them for color consistency. It's essential in our designs that each pearl is in harmony with the next. Select the ones that seem… destined to be together. Such has been the case with the Swarovski pearl, their beauty and brilliance enhance and refine a completed design. I've fallen in love with their colors and selection, and how they perfectly complement HerMJ necklaces and bracelets. With sizes ranging from 2mm (about the size of a tiny mint — and as comparatively refreshing to the eye) all the way to 16mm (relative to the size of a Hershey's kiss), they satisfy our design palate, rendering a colorful range of opportunities. Carefully woven into intricate designs, Swarovski pearls are transformed into regal pendants and put serious bling into bracelets and necklaces.
Components
And, of course, the magic of European crystals is unsurpassed. From the elegant tiara crowning the head of Audrey Hepburn in Breakfast at Tiffany's to the 10,000-crystal-adorned ball gown worn by Disney's 2015 Cinderella, we've all experienced the splendor and sparkle of handmade crystal jewelry. There is no question about the value of European crystals, from their consistency, which surpasses all others in terms of sheer quality, to the sparkling facets that deliver the shimmer to textiles and jewelry. Poised for the continuing evolution of fashion, crystal jewelry continues to be innovative in terms of designs and colors. Their components have been proud staples here at HerMJ. We include them in a wide array of in our designs; their beauty and value allow us to create classic styles while balancing the traditional with the fashion-forward.
Our eyes are always on the sparkling crystals out of Europe that show component design concepts destined to impact the market, and we're always eager to see how their new elements will complement our creations. This year was no different. When we received an invitation to their showroom in the heart of Los Angeles' fashion district, we were happy to visit, and to get a direct view of what the future holds, and, importantly, what we could look forward to for our upcoming designs. From their Spring/Summer Baroque Bead to their Shimmer Effect AB crystal finish, they did not disappoint.
Just outside the Swarovski Showroom, the lights from their crystal chandeliers radiated across an otherwise shadowed hallway. Beyond the plate glass doors at the entrance to their showroom posed a life-sized mannequin in a glimmering blue beaded evening gown. The gown's top, hand sewed and adorned with Swarovski elements full of glitter and glamour, included their blue iridescent pearls and flatbacks.
Greeted by the showroom coordinator, we were off to see the world of Swarovski elements. Within a room of pristine décor, marked by white cabinetry, tabletops, and chairs, we began the tour, starting with their design book, including an array of Swarovski elements, including mounted crystals and pearls. Being in the Showroom was like sitting with your favorite movie actor. Admiring how you've come to know the product of their talents while feeling the excitement of such a rare occasion of proximity.
Handmade Crystal Jewelry Elements of Style
Here are some of HerMJ's favorites
Illusions
Their designer Edition featuring former BMW visionary Chris Bangle's 2.5D work showcasing volume and dimension in the multi-layered cut of his Tilted Chanton, Tilted Spike, and Tilted Dice crystals. We were struck by the sense of depth and radiant shimmer that will be sure to set off fireworks in the designs incorporating the crystal.
Baroque
There is a regal look to this faceted, lightweight crystal in a 10mm and 14mm pear-shaped design. Multi-layered and created in translucent, mirrored, or covered finishes, there are several ways we can leverage this crystal in very majestic, highly detailed bracelets and necklaces, and will add a romantic air to your style.
Shimmer Effect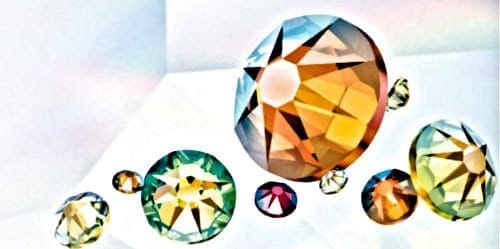 What Swarovski terms an Aurora Borealis effect is the sparkle conveyed by the AB crystal. It reflects a rainbow of light that shimmers with an opal-like finish. Its refractions of light stunningly draw attention to the crystals. The array of Shimmer Effect crystals range in fifteen colors from Black Diamond, Blue Zircon, Citrine, Cobalt, Erinite, Fuchsia, Hyacinth, Light Colorado Topaz, Light Sapphire, Light Siam, Peridot, Siam, Silk, Tangerine, and Topaz.
Crystal Galuchat
Designed to convey the sleek skin of the stingray, the Crystal Galuchat yields a subtle glimmer similar to multi-colored beads of water rising from its innovative fabric. They derive their iconic look and feel from an irregular tapestry of 3-dimensional crystals measuring 2.5mm and 3.55mm in diameter. Sure to bring attention to the designs including it, it is quite a stylish and glamorous fabric.
HerMJ Crystal Jewelry
At Her Majesty's Jewels, we look forward to the continued evolution of crystal colors we incorporate in our handmade crystal jewelry designs, from their shimmer in an elegant baroque crystal bracelet to the bold look of a dramatic multi-layered crystal necklace. We invite you to watch for the new designs, and the beautiful crystals that will contribute spectacularly to the elements of style at HerMJ.com.
More on power of color in fashion designs.
The Psychology of Color
Let's talk about the amazing power of pink. First off, there's a lot to be said for our perception of